To:

St. Johns County Commissioners: Christian Whitehurst, Sarah S. Arnold, Roy Alaimo, Krista Joseph, Henry Dean & Animal Control Operations Manager: Paul Studivant
Tell County Commissioners: Support Community Cats and TNR in St. Johns County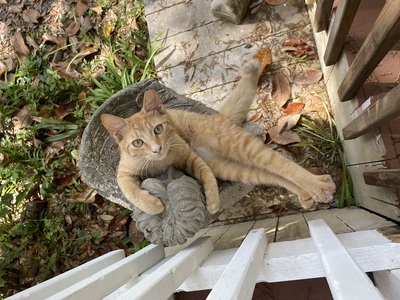 St. Johns County has long been resistant to adopting new, effective and humane approaches to community cat management. The result is that St. John's County continues to euthanize any unowned, free roaming and unsocialized cats that end up at Animal Control even if they are otherwise healthy and thriving in their environment. As has been proven in other states and counties across the U.S. and abroad, this inhumane approach to community cat management has little to no effect on the overall population. In addition to being ineffective, the killing of unowned, unsocialized cats goes against community members altruistic and compassionate nature. I can attest to speaking with and helping many of these kind hearted, good samaritans who are my neighbors and fellow animal lovers. I hear from people regularly who want to help their community cats but don't know how to access the resources to spay&neuter the cats they watch over. I hear all too often that they believe they have only two choices: To call St. Johns County Animal Control where the majority, if not all, of these unadoptable cats will be euthanized OR do nothing. Many have chosen to do nothing, not knowing there are other options like TNR or Trap-Neuter-Return.
It is the belief of community members like myself, that St. John's County officials have a duty to implement legislation and support programs that effectively and humanely address the needs of residents, human and animal alike. Reforming problematic legislation like leash laws and abandonment laws and implementing new legislation that specifically addresses the particular needs of community cats and their caregivers is essential to making positive changes. In addition, to truly be effective we must all work together, therefore the implementation of new policies at St. John's Animal Control is essential. By adopting policies and procedures that promote and put into practice Return-to-Field and TNR, SJCA can make a positive difference in many more lives and be more effective than ever before.
Why is this important?
In my experience as a community cat advocate in St. Johns County, I've met many kind, giving people who are desperate to find a way to take care of the cats that so just happened to be their neighbors. They are not their owners but the they are the ones that just so happened to notice the cats and kittens in need in their neighborhood. They often don't have the financial resources to Spay&Neuter a group of cats that they just so happened to be living next to, let alone have they even heard of community cat programs or TNR. Having worked with local rescues as a cat foster and now working in the community to help people get access and training to TNR, I can attest to the overwhelming calls for help in this community, especially during the very busy kitten season.
Our municipal shelter doesn't support or provide access to programs that Spay&Neuter, vaccinate the unowned cats in this community so the cycle continues without county wide support. We will continue to see countless kittens being born and cats being euthanized until we have collaboration, support and policies to address this issue.